Specs & Details
Concrete Precast Vaults are produced to meet the following applications:
Electrical / Communication Pull Boxes
Rocky Mountain Power / PacificCorp Transformers and Pad Vaults
Custom Vaults To Any Specification
ATMS Cabinets
Light Pole Bases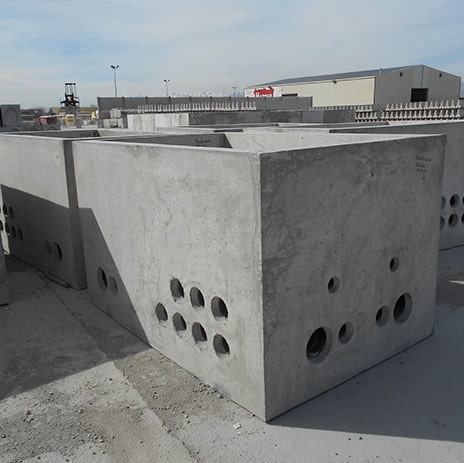 Features & Benefits

Lifetime Quality

Ultimate Durability

Long-Term Cost Efficiency

Maintenance-Free

Variety of Choices

Customizable
Utility Vaults
As an authorized Rocky Mountain Power/PacifiCorp producer, Harper Precast is one of the largest manufacturers of electrical and communication utility vaults in the state of Utah. We manufacture a wide range of concrete utility vaults for both government property and private entity customers. Each vault is uniquely designed to your specifications. We can customize the size and utility of each vault to meet your needs and your space. Harper Precast our facility provides the flexibility to create the custom vault to precisely meet your needs.
For nearly 40 years we have been committed to offering superior product with unmatched customer service. Our products outperform the competition by focusing on three major areas:
Detail and Durability – Each Harper Precast utility vault is designed and reviewed by Professional Engineers to ensure that it can stand up to the expected loading conditions.
Custom Design – Our concrete precast vaults can be used for any specification. We have supplied vaults for electrical and communication pull boxes, Rocky Mountain Power and PacifiCorp transformer and pad vaults, ATMS cabinets, Light pole bases and more. We can build a customized utility vault for any application you may need.
Experience – Harper Precast has been in the excavating and concrete industry for over 40 years. We combine decades of experience with the latest industry advancements to provide the ultimate precast product. Our team works together to ensure the highest quality products available.
Electrical and utility vaults are the preferred method to providing easy access and secure storage for public or private utility equipment, pipes, gears, valves, and telecommunications equipment. Vaults from Harper Precast come with lifetime quality guarantee, ultimate durability, and long-term cost efficiency. Our vaults require no maintenance. We provide custom-made access doors and manhole covers, as well as blockouts and knockouts where necessary. Give us a call to find out what Harper Precast can do for your business.