Specs & Details
Our design team is here to provide custom designs to meet your needs. Using vertical casting pits, we can cast custom patterns on both sides of each panel. We offer hundreds of color options, from single color to multiple color applications. Our plant production capacity, along with our in house installation crews, allow us to deliver your product on time and per specification.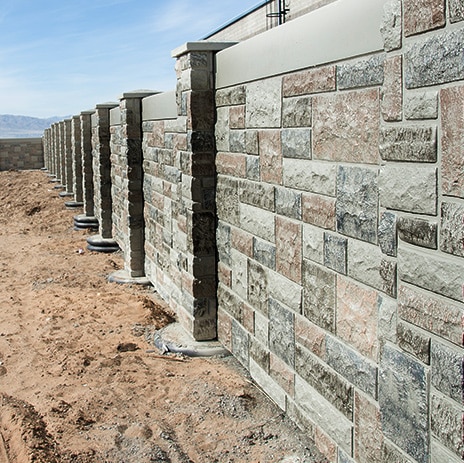 Features & Benefits

Lifetime Quality

Ultimate Durability

Long-Term Cost Efficiency

Maintenance-Free

Variety of Choices

Customizable
PRECAST CONCRETE FENCING
BENEFITS OF CONCRETE FENCING
Concrete posts and panels provide a number of unique benefits that other materials simply cannot. Concrete posts and panels are stronger and require less maintenance than those made from any other material. Concrete is also a more environmentally friendly and economical material because it's made from readily available and all-natural materials. Concrete posts are the best option for holding fencing structures together even when the panels of the fence are made from other materials such as wood or metal.
Because concrete posts and panels are preferred for their durability, it's important that they're made through a process that ensures quality materials and workmanship. Pre-casting allows for increased quality control of the concrete during mixing and curing because the process takes place in a controlled environment. The precast fabrication process is also more efficient because production is performed indoors where weather is not a factor.
Harper Precast provides quality concrete products throughout Utah and the Intermountain West. We've built a strong reputation for quality workmanship and excellent customer service. If you're looking for precast concrete posts that are aesthetically pleasing and strong enough to hold your fence in place for years to come, look no further than Harper. We encourage you to check out our project showcase.